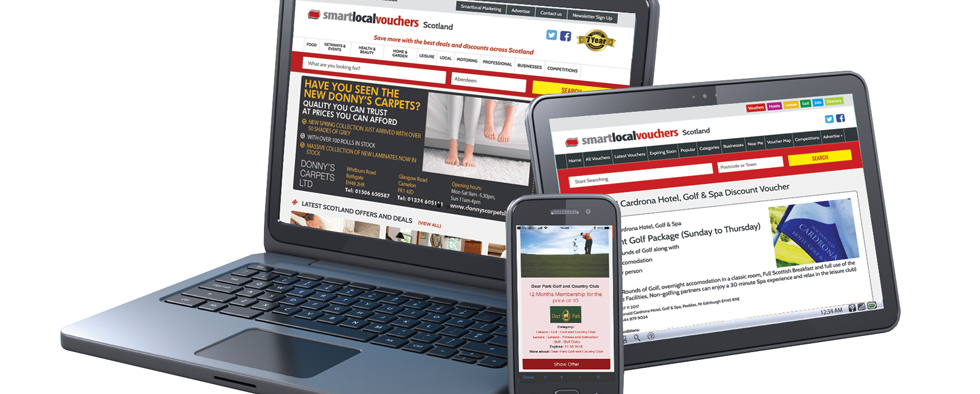 Advertise on smartlocalvouchers.co.uk
Promote your business Scotland wide, from as little as £40+vat per month, minimum booking 6 months.
Reaching, thousands of online customers you will have 3 vouchers promoted which you can amend monthly if required. (One-off set-up fee of £50+vat)
Often with online advertising you can be left wondering if the people seeing your advertisement are likely to become actual customers. Using a voucher enables you to track return.
www.smartlocalvouchers.co.uk has over the past 9 years, been a focused voucher advertising platform. We believe by offering an incentive through a discount voucher you are giving those potential customers a reason to choose your business. (We can also provide you with a monthly report of the page views your voucher receives).
From as little as £40+vat for 6 months you with receive a

' Full

Business Profile'

on our website and

'3 Voucher Offers'.
(Please note, we do not take bookings, the consumer deals with you direct and pays you 100% of the offer price)
Full Profile Page Includes:
Up to 500 words about your business

Your Company Logo and Business Address Details

Two images, plus Google Map of your Business location

Telephone and Mobile Number

Multiple Addresses where applicable

Website and Email Address

Opening Times

Facebook and Twitter Site Link

Your business and profile will appear on all relevant sections of the website
Voucher Content Includes:
Company Logo

One Image

Your Address Details

Voucher offer details

Expiry date and terms and conditions

Relevant business category (e.g. Restaurants)

Monthly voucher amendments (if applicable)
Additional Vouchers can be added for an extra £5+vat per month
Every booking also includes:
Your business and your offers on our FREE Android and iPhone App

Your offers featured in our email newsletters to over 4,500 subscribers

Your offers promoted to over 3,800 followers across our Facebook and Twitter pages
Pricing Summary:

(Includes Full Business Profile and 3 Voucher Offers)



6 MONTH BOOKING : £40+vat per month

12 MONTH BOOKING : £25+vat per month
Latest Smartlocal Vouchers stats.
75,000 Voucher books delivered bi-monthly

190,000 average monthly page views

70,000 average monthly voucher views
*Taken from Matrix Stats Aug 18 to Aug 2019